SpaceX donated seven Starlink satellite terminals to Washington State's Emergency Management Department (EMD) to provide emergency data services as part of the State's 2020 wildfire response. Some of the terminals were deployed to provide internet connectivity for the town of Malden, where it is estimated that 80% of the homes were destroyed in this small Washington town. The Starlink system was quickly set up to provide emergency communications and broadband services for local residents.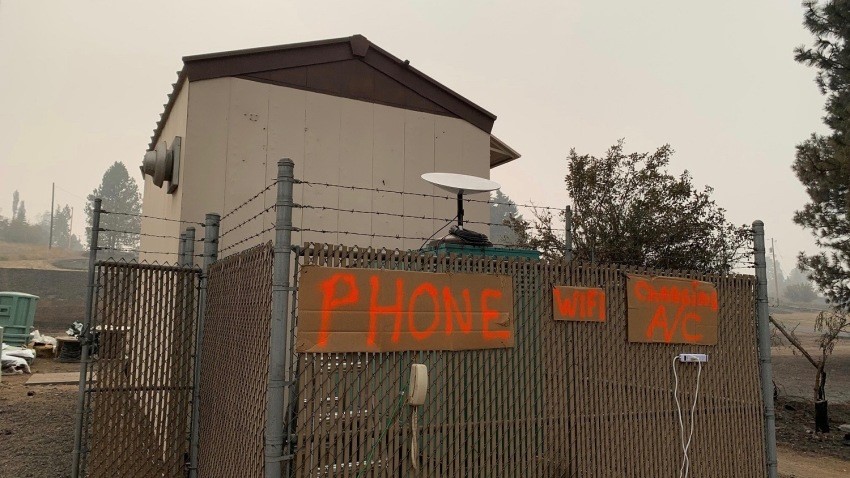 Steven Friederich, with EMD explained, "the fire come through town and it burned a good chunk of the area, including the fire station and the post office. There simply hasn't been a way to get a fast and reliable Internet connection there for the public to use…This is a device we could definitely utilize should we have more wildfires or even larger disasters, such as a Cascadia Subduction earthquake event, where communication problems would be a huge hurdle".
The terminals are also being used for incident command at the Bonney Lake wildfire. Richard Hall with Washington State's Military Department IT was quoted as saying "I have never set up any tactical satellite equipment that has been as quick to set up, and anywhere near as reliable."
The Starlink terminals are part of a new satellite network service currently being deployed by SpaceX. The new satellite-based broadband service is promising low latency and high bandwidth. While the system is still in development SpaceX has published testing results showing a 30-millisecond latency and bandwidth of up to 60 Mbps. The company is preparing to launch a public beta for Starlink later this year for residents in the northern US and Canada.
As already demonstrated the Starlink system may provide Emergency Management and Healthcare IT/Communications access to new satellite-based data services for use in emergency situations and as a backup for traditional land-based systems. New satellite-based data networks will be an interesting service to keep an eye on in the next few years to see if these new systems can provide critical data network connectivity even if land-based systems fail or are damaged in emergency situations.
Sources
SpaceX Is Providing Satellite Internet Service to Towns Hit by Wildfires
By Michael Kan September 29, 2020
https://www.pcmag.com/news/spacex-is-providing-satellite-internet-service-to-towns-hit-by-wildfires
SpaceX's Satellite Internet Plans for Mid
-2020 Launch in the USBy Michael Kan October 23, 2019
https://www.pcmag.com/news/spacexs-satellite-internet-plans-for-mid-2020-launch-in-the-us
Starlink puts towns devastated by wildfires online for disaster relief workers
Devin Coldewey@techcrunch September 29, 2020
Starlink puts towns devastated by wildfires online for disaster relief workers