FEMA Integrated Public Alert and Warning System (IPAWS)
The Federal Emergency Management Agency's (FEMA) Integrated Public Alert and Warning System, or IPAWS is FEMA's national system for local alerting that provides authenticated emergency and life-saving information to the public, including WEA to cell phones. FEMA partners with the Federal Communications Commission (FCC) and the wireless industry to maintain a national alert and warning capability that distributes Presidential alerts, AMBER alerts, and imminent threat alerts (e.g., hurricanes and tornadoes, where life or property is at risk).
IPAWS was established in 2006 under Executive Order 13407 as a national alerting system to quickly and reliably provide authenticated emergency and life-saving information to the public via publically accessible technologies. Today, more than 1,500 federal, state, local, tribal, and territorial alerting authorities use IPAWS to send critical emergency updates in their jurisdictions. IPAWS can be used to send multiple types of emergency alerts from "Wireless Emergency Alerts"(WEA) on mobile devices and digital highway signs to the Emergency Alert System, which delivers alerts over the radio and television—all geotargeted with critical news based on a person's geographic location.
The Wireless Emergency Alerts system is a part of the larger IPAWS system. WEA is an emergency preparedness tool for quickly delivering important, actionable information to the public all at once. Wireless Emergency Alerts (WEA) warn of weather hazards like flash floods, hurricanes, or tornadoes; fire hazards; and even AMBER Alerts about missing children.
Communication Pathways
The Emergency Alert System (EAS) delivers alerts via AM, FM, and satellite radio, as well as broadcast, cable, and satellite TV. The Emergency Alert System (EAS) is a national public warning system that requires radio and TV broadcasters, cable TV, wireless cable systems, satellite and wireline operators to provide the President with the capability to address the American people within 10 minutes during a national emergency.
Wireless Emergency Alerts (WEAs) are short emergency messages from authorized federal, state, local, tribal and territorial public alerting authorities that can be broadcast from cell towers to any WEA‐enabled mobile device in a locally targeted area. Cell phones and mobile devices receive Wireless Emergency Alerts based on location, even if cellular networks are overloaded and can no longer support calls, text and emails. The alerts are pushed to cell phones without the need to install an App or other applications.
The National Oceanic and Atmospheric Administration (NOAA) delivers alerts through the NOAA Weather Radio All Hazards. (NWR) is a nationwide network of radio stations broadcasting continuous weather information directly from the nearest National Weather Service office. NWR broadcasts official Weather Service warnings, watches, forecasts, and other hazard information 24 hours a day, 7 days a week.
Alerts are also available from internet service providers and unique system developers.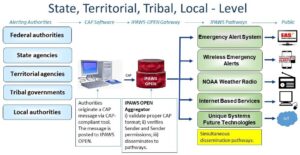 IPAWS Program Planning Toolkit
FEMA has published the IPAWS Program Planning Toolkit to provide the Alerts, Warnings, and Notifications (AWN) community with guidelines needed when implementing emergency response plans. The toolkit provides guidance on establishing a new Alerts, Warnings, and Notifications program or refining an existing one. Emergency managers, public information officers, alerting originators and administrators, and other experts contributed best practices, and the toolkit will help additional agencies/jurisdictions ensure their AWN programs run smoothly. Previously, stakeholders would contact IPAWS with issues or questions. The goal of the new toolkit is to put reference tools at their fingertips.
The IPAWS Program Planning Toolkit is to assist public safety agencies to minimize alerting delays; planning for future alerts, warnings, and notifications enhancements; facilitating interoperability across different technologies; and improving information sharing among emergency management and public safety officials. This will ensure stakeholders now have tools to help eliminate glitches and user errors, allowing alerting authorities to be strategic with their alerting for maximum impact.
Additional Resources
https://www.fema.gov/emergency-managers/practitioners/integrated-public-alert-warning-system
Emergency Alert System
https://www.fema.gov/emergency-managers/practitioners/integrated-public-alert-warning-system/public/emergency-alert-system
Wireless Emergency Alerts
https://www.fema.gov/emergency-managers/practitioners/integrated-public-alert-warning-system/public/wireless-emergency-alerts
NOAA WEATHER RADIO ALL HAZARDS
https://www.weather.gov/nwr/
Wireless Emergency Alerts Fact Sheet and Videos
https://www.dhs.gov/publication/wireless-emergency-alerts
Guiding Communities Through Alerts and Warnings for COVID-19, Other Emergencies
https://www.dhs.gov/science-and-technology/news/2020/09/30/feature-article-guiding-communities-through-emergency-alerts
FEMA Resilience-Analysis-and-Planning-Tool