FirstNet Suitcase Deployables Overview
Sonim Technologies has released a deployable solution that provides an easy to deploy LTE and Wi-Fi coverage solution in a package that is small enough to be carried to locations where a large vehicular deployable is not practical. The system is designed to be easy and fast to deploy with limited training meaning Emergency Manage Staff could provide cellular and Wi-Fi coverage for a command center or remote location or outdoor triage area when needed. The system will automatically link to the local cellular network or with an additional element failover to a satellite connection.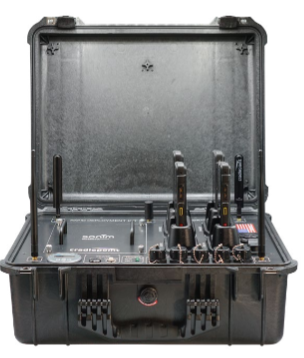 When deployed users can connect their mobile devices or computer's Wi-Fi to the system's network, The system also comes with four Sonim XP8 cell phones that are already pre-loaded and pre-configured, so all you have to do is pull them out of the chargers and start using them.
Even devices that are not designed to operate on FirstNet can benefit from an RDK deployment, By connecting to the RDK via a Wi-Fi connection in the 2.4 GHz or 5 GHz band, non-FirstNet users at the site can use the broadband connection—with the priority and preemption associated with FirstNet RDK.
Check out the Deployment Quick Start Guide